What's new around Silver Streak Boats?
Posted on: March 9, 2018
A big milestone! This 19-0″ Jet Boat is officially Silver Streak Boat's #1000 boat! For more info about this boat, please see our 'New & Used Boat' page.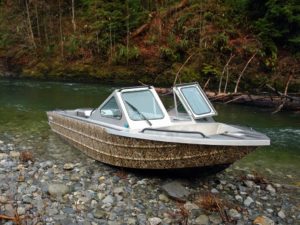 It has been a very busy season here at Silver Streak Boats, and with Spring just around the corner we thought it is due time to provide a few updates on what has been going on around here!
A few items we are now offering:
Vinyl wraps – Silver Streak Boats has started turning heads with the new 3m vinyl wraps on boats going out to dealers recently.  They work better than paint and won't blister like paint commonly does around fittings and fasteners, is easy to repair or change colour, and is cheaper than a paint job! They are available in just about every colour and in graphic kits as well.
Backsaver pedestals – Love being out on the water but do not enjoy the discomfort of a bumpy ride? Maybe it's time to consider upgrading to our "Backsaver Pedestals". We currently retail to individuals wanting to replace their solid pedestals. These shock mitigating pedestal posts contribute to a way smoother ride, are available 14″ to 20″ in height, and you can add powder coating and seat slides to add more fun to your boating experience!!
Silver Bullet mufflers – You guys with the noisy sport jet boats – don't forget about our field tested Silver Bullet Mufflers! You can now talk at a comfortable level rather than yelling at your crew or passengers – and with the addition of Silver Bullet mufflers there is no longer any need for hearing protection. Drop those decibels down drastically from 110 db to as low as 80 db without sacrificing power!! These are available in different sizes and configurations. Check out our Jet Boat page to see some in action #SilverBulletMufflers #JetBoatMufflers.
Electronics – Time to upgrade or add some new electronics for the new boating season? Don't forget we are a Ray Marine and Garmin dealer, with factory trained certified techs to install the latest systems in your boat!!
__________________________________________________________________________________
In addition to offering new options and upgrades for boats, here at Silver Streak Boats we also pride ourselves on always working at improving and bettering our current boat models. These improvements range from standard feature changes, to structural model upgrades. The following are just a few notable changes, that we wanted to share with you.
Seat slides and footrests – For your additional comfort, our Phantom, Hard Top Renfrew, Gambier Cabin and Bowen Cabin models are now all standard with both helm and passenger seat slides and footrests.
Race Rocks – We have recently upgraded the steering and seats in our Race Rocks Hard and Soft Tops. The new improved models now come standard with sharp looking stainless steel spoke wheels and more comfortable Springfield Fish Pro II seats.
__________________________________________________________________________________
Boat show season has again come and gone, and from all accounts, this last Vancouver International Boat Show (VIBS) was a huge success. Silver Streak Boats is at its peak busy time leading up to this boat show, and after so much hard work from both our boat builders and dealers, it's always a fantastic feeling to see and hear from new boat owners. To all new Silver Streak boat owners – welcome to the family!
Proud new owners, Jackie & John, with their new 18-6″ Hard Top Challenger, purchased at this years VIBS, from our super dealer, Campbell River Boatland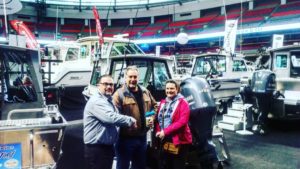 Another happy Silver Streak Boat owner, Dave, with his Race Rocks, purchased from last years VIBS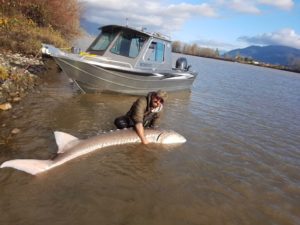 Thank you for taking the time to catch up with some of the new things happening here at Silver Streak Boats, and don't forget to check out our 'Used Boats' page for any currently available models!